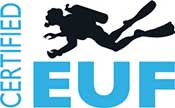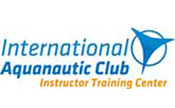 We offer you an education from beginner to instructor. The Aquanautic Club Lanzarote is the only EUF and I.A.C / CMAS instructor training center in Lanzarote.
Should you feel like training and becoming an instructor and fulfilling the requirements listed below, we like to educate you.
We look forward to you!
Requirements:
minimum age 18 years
proof of training for the I.A.C Basic Instructor or comparable valid diving certificate
proof of at least 150 logged dives
proof of accompaniment / support of initial training in the CMAS or R.S.T.C. system
proof of diving instructor liability insurance
It is recommended to attend at least two of the following three seminars (which can also be made compact in the modular seminar)

medicine
rhetoric and communication
technology
alternatively, proof of sufficient knowledge and skills in the respective disciplines is sufficient
Comparable trainings of other organizations with proof of the teaching contents can be recognized.
Technology courses of companies for piston controlled or diaphragm-controlled regulators as well as a compressor workshop can be recognized when the course contents are comparable to the I.A.C.
In the technology courses of companies has to be talked about the piston controlled and diaphragm-controlled regulators and a compressor workshop must be proved.
The participation in a preparation and qualification week is advisable.